Scanned by:
Irene G.B.
Thanks!
---
See Irene and I
in the newspaper shot!
---
See shots of this concert!
(Left) Monica Naranjo, surrounded by the three dancers that go onstage with her in her performances, during her performance. (Right) General view of audience

The "importance" of thinking you are a Diva
An unfortuned Monica Naranjo offered in El Sauzal her particular version of a concert

At this stage our amazement capacity is asleep, waiting for originality to appear and reconfort us.
The show offered last Saturday night by disco-drama diva, Monica Naranjo, wansn't neither original nor amazing.
The only surprise -for she showing no respect- of a tedious and rythmless spectacle came at the beginning, having the few 2000 members of those present an hour and a half, until the artist decided to go onstage.
The halo of international star whose life seems to owe her a round makes her succumb as a performance right from the start.
The concert didn't leave the initial coldness, grown up by the ballad consecution, that slowly mined audience's patience and attention, that started looking for an exit an hour after the beginning.
The "kebab" smell given away by improvised grills close to the stage, alleviated the boreness of a show said to last two hours, by words of the own singer, that luckily ended an hour and a half after the beginning.
To general surprise, a growing-up murmure coming from moving groups among the audience, competed with the sound of the ambiguous and sometimes uninteligible voice of Monica Naranjo, that didn't do anything to revert what was happening.
Except by the three dancers that where onstage with the more and more anorexic diva, the concert succumbed by her contempt to the audience.
Thanks God, we'll "survive" to Monica Naranjo.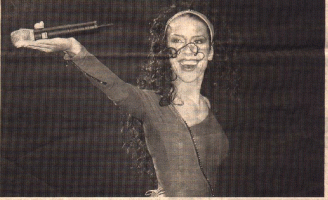 Monica Naranjo heading for the audience as ending a song
---
SERGIO NEGRíN - SANTA CRUZ
Diario de Avisos - Monday, 3rd July 2000